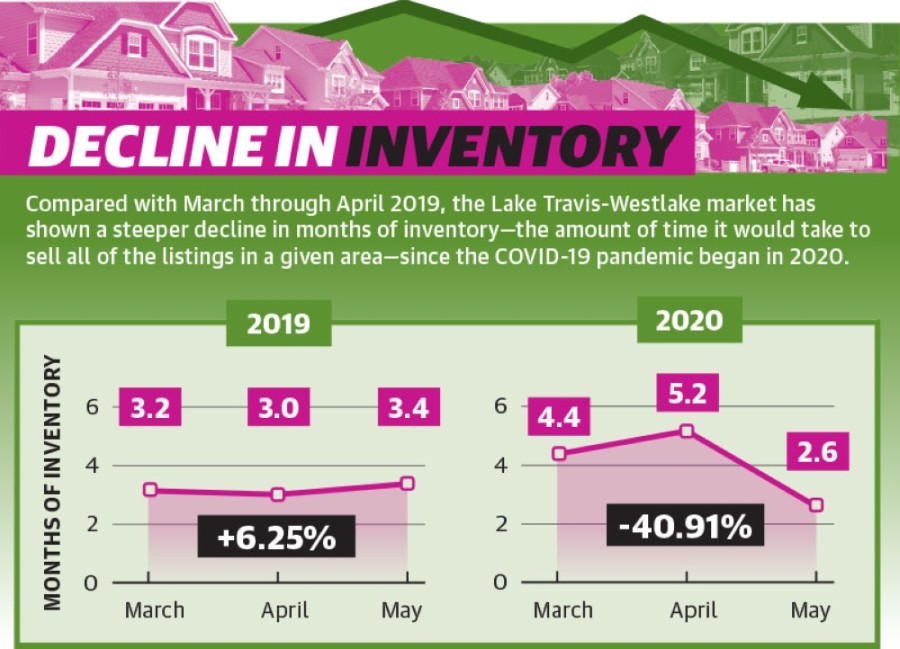 The residential real estate market in the greater Austin area has shown a steep drop in the total amount of inventory since the COVID-19 pandemic began in the U.S., and local experts have said that sales in the same five-county region have also dropped as a direct result.

Compared with data from May 2019 provided by the Austin Board of Realtors, residential sales in May 2020 in the five-county region that makes up the Greater Austin metropolitan statistical area dropped almost 30% to 2,697.

But while anticipated negative effects of the pandemic have created a lag in the market, members of ABoR and other local real estate companies said the recent data also show that Austin remains a strong market. That includes the Lake Travis-Westlake market.

Mark Sprague, state director of information capital at Texas-based property company Independence Title, said there are several reasons why people from all over the country want to move to the area, and once the pandemic is under control, Austin should continue to be a highly-valued location.

Because of its diverse economy that attracts many different kinds of businesses, property valuations that rise at a slower pace than many other big metropolitan areas and the fact that Texas doesn't require citizens to pay state income tax, Sprague said people throughout the country, more specifically from the east and west coasts, have been ramping up their interest in relocating to Austin.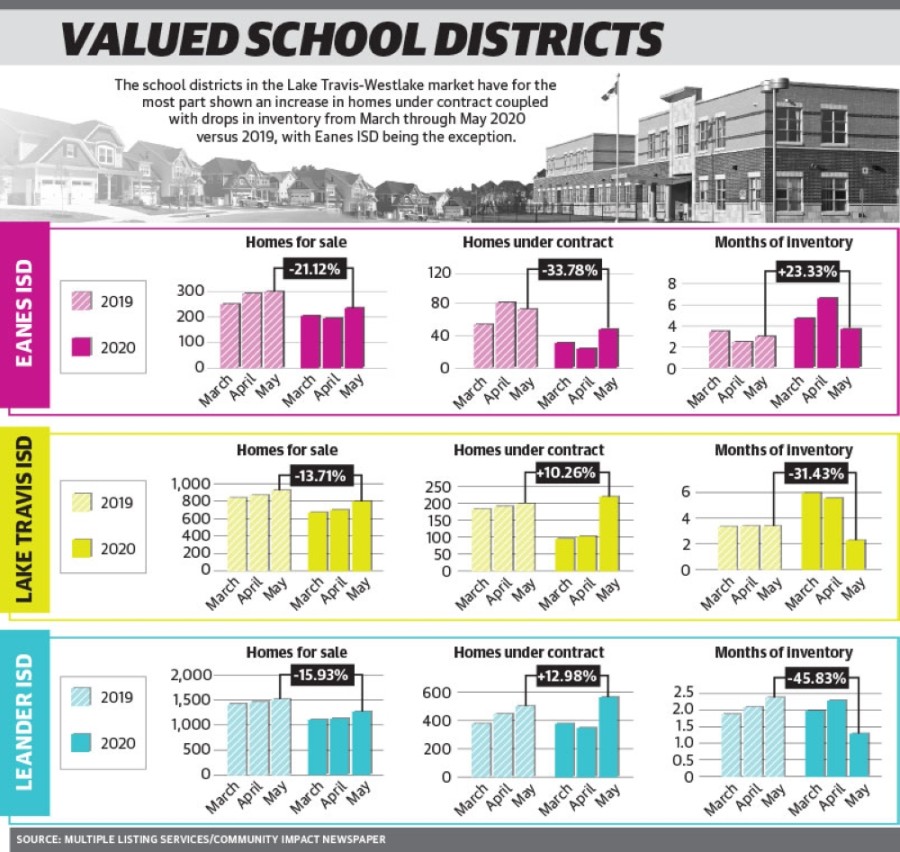 And within Austin, the Lake Travis-Westlake area remains one of the most sought-after spots for people moving to the area due to many factors, including exemplary school districts and close proximity to Lake Travis and Lake Austin, he said.

"We are blessed to be in Austin," Sprague said. "It's one of the hottest metros in the world right now, coupled with [Dallas-Fort Worth]."

Homes under contract a strong indicator

One of the data points that is showing why Austin and the Lake Travis area remain such strong markets lies in units under contract.

Cord Shiflet, a realtor at Moreland Properties and ABoR president elect, said homes under contract in June 2020 in the markets he focuses on are up 42% over June 2019.

Data from Multiple Listing Services, or MLS, a standard information tool throughout the real estate profession, shows that in the Lake Travis-Westlake market, homes under contract from March 2019 to May 2019 increased by 7.74%. For the same time period in 2020, homes under contract spiked at a whopping 78.47%.

Coupled with a decrease in inventory across the board, Shiflet said these two factors has made for a busy summer so far for him personally.

"March through May was shut down here because of COVID[-19], so we have seen a late push of people coming out and we're having the busiest summer I have experienced in my 23 years," Shiflet said. "COVID pushed our market back at least 60 days."

But even though the pandemic resulted in market timidity from the onset with regard to sales, Shiflet said the situation has also resulted in an influx of buyers from out of state, and he estimates that while typically about 80% of his buyers are from the west coast, he's recently seen an uptick in buyers from New York.

"I would say it's 60% [buyers from] New York and 40% [buyers from] California," he said. "So, we've had a monster influx of northeasterners coming in here. They do not like the congested living where they are and have realized they can work from anywhere they want to work. We've seen top executives looking at bringing large companies to Austin with dozens if not hundreds of employees coming with them. And these guys are gobbling up our inventory very fast."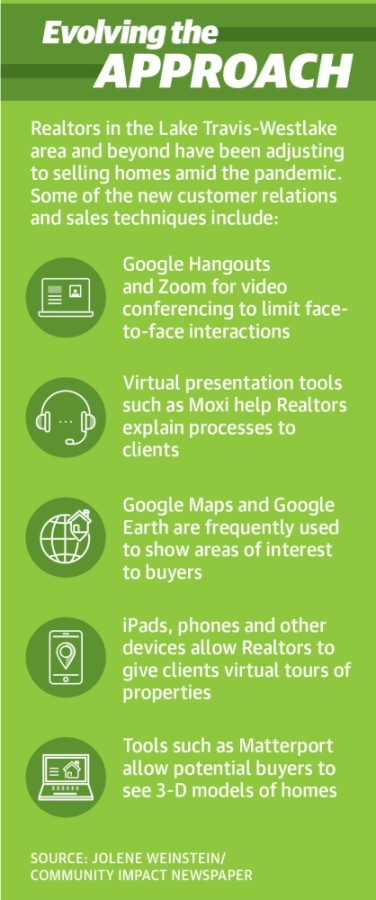 As COVID-19 cases continue to rise, Shiflet said there may be slight slowdown in residential real estate sales, but he anticipates that would also be just a temporary hiccup in the market.

"It may slow us down a smidge [because of] people pumping the brakes on traveling again and coming to Austin, where there are very high amounts of cases," Shiflet said. "I think it will be a very short pause, and as soon as conditions open up again ... it's not stopping the east and west coasters from wanting to come to Austin. It may delay them a couple months in making it happen, but they are still going to come here."

Realtors are working to ensure safe practices

As part of its May residential real estate report, Romeo Manzanilla, 2020 ABoR president, said realtors throughout the Greater Austin area are working to create safer practices for buyers and sellers amid the pandemic.

"We recognize there's still an element of discomfort with listing one's home during the pandemic, and Austin realtors are taking every precaution to ensure safe and efficient practices across the market," Manzanilla said.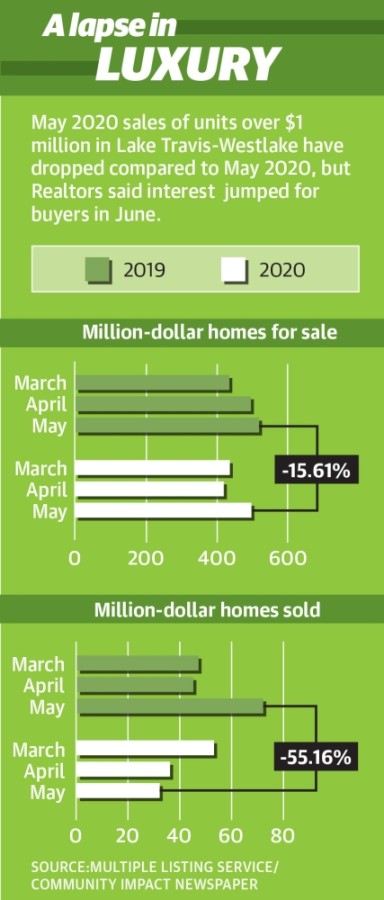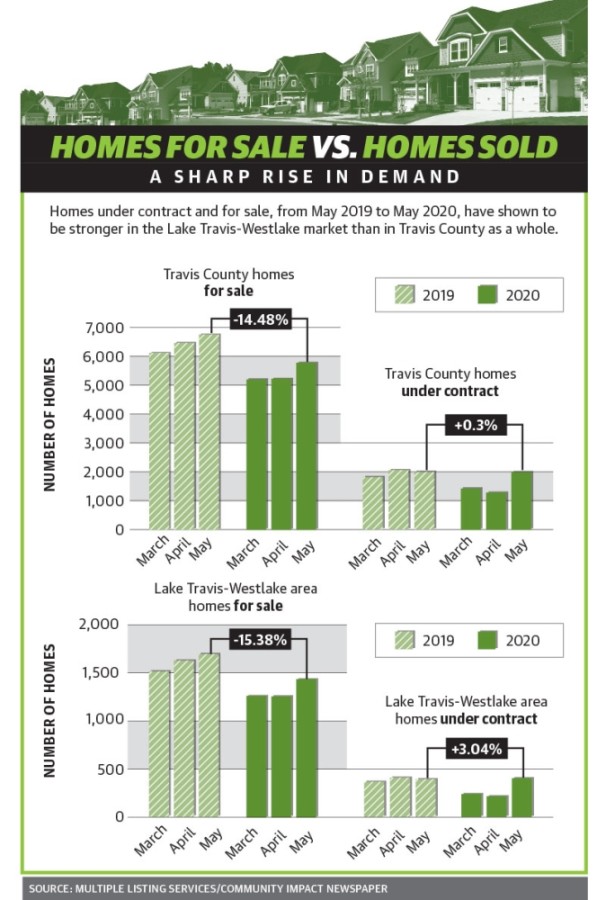 There are several relatively new practices and technological tools that realtors have been using during the pandemic, Weinstein said.

Whenever possible, realtors are avoiding paper transactions and looking more to digital correspondence, encouraging virtual open houses, using tools such as Google Hangouts and Zoom for video conferencing and taking advantage of applications such as Matterport, which allows potential buyers to see 3-dimensional models of homes.

"Overall agents have seen an improvement in communication on all fronts in assisting their clients," she said.

New homes in Lake Travis-Westlake are selling fast

According to Shiflet, the pandemic likely won't cause developers to rush to build new inventory. Projects for new developments take at least a year and usually longer to complete, he said, but added that any new inventory ready to go can be sold.

That has proven to be the case in the Lake Travis area, and especially in the residential development Rough Hollow in Lakeway that sprawls along Lake Travis, where sales of new homes in June have shown record-breaking numbers.

Bill Hayes, chief operating officer of Legend Communities, a developer for the Rough Hollow neighborhood, said that in June, sales of new homes within all of the development's price points have been the best he's ever seen since construction on its homes began in 2006.

Hayes said there could be a few factors coming into play with regard to the high sales numbers he has been seeing.

"I think it's a combo of all the COVID stuff and knowing that you can live where you want and work," Hayes said. "[Clients like] the idea of somewhere like Rough Hollow, where there is more space generally than somewhere like downtown Austin, and then there may be some level of feeling like a town like Lakeway is maybe a little calmer with all the protesting and all that, there is not a lot of that out here. One more thing is being adjacent to the lake, where you can have recreation and not worry about all the social distancing rules."

Hayes said that at the onset of the pandemic, mid-March through mid-April, he saw virtually no sales activity at Rough Hollow.

A month later, he said, figures began to pick up a bit more and bounce back to the average of four new sales per week.

In June, sales of new homes skyrocketed.

"We had a week in June where we had 12 [sales of new homes], he said. "Then, the week after that we had 9. Then, the week after that we had 5 sales. [Homes] have been selling at all price points too. It runs the gamut."

Demand for luxury real estate increases

According to Jolene Weinstein, head of sales and a broker associate at Realty Austin, even though the initial effects of the pandemic likely created some hesitancy among buyers and sellers in the Austin area, sales numbers are showing another upswing.

With regard to the market in the Lake Travis-Westlake area, Weinstein said that, at least at Realty Austin, sales have remained steady, and that has a lot to do with a high demand for high-end residential property.

Another factor that could be making the market in western Travis County so attractive, she said, is its association with a more suburban atmosphere.

"One of the things about Lake Travis, even Westlake, is that it's not in the city, and I will say that one of the trends I think might take place is we'll see more and more people want to live out in the suburbs," she said, adding that with COVID-19 coming into play, people could be prioritizing more amenities within the confines of their homes, such as big backyards and swimming pools.

Shiflet agrees that the Lake Travis-Westlake market is one of the most sought-after areas in Texas, and listed four key areas: Westlake, West Austin, Barton Creek and Lake Travis.

"Speaking specifically to Westlake and Lake Travis, those are often on top of the list because they have the great school districts. Eanes [ISD] is the sixth best district in the country," he said. "And Lake Travis [ISD] is a very close second."

Due to the highly rated school districts and numerous other amenities, Shiflet said the number of clients looking for properties in the Lake Travis-Westlake area has only increased amid the pandemic.

Typically, he said, he'll usually have one client at any given time frame who will have an unlimited budget—anywhere from $10 million to $50 million. In the last three weeks of June, he said, he has encountered seven buyers with no budget.

"It's unheard of," he said.

The pandemic factors into that, Shiflet said. He described one group of luxury buyers as people with large companies that make huge amounts of money, and who realize they can do their jobs from anywhere. One of the features clients search for first when looking to relocate is states that don't require state income tax. As one example, he listed California, which has a top marginal income tax rate in the country at 12.3%—the highest in the country—as one example of a state people are leaving in droves to move to western Travis County.

"Nevada, Texas, Florida—those are the three [states] people go to first," he said. "Texas seems to stand out ... above the other two. And if you can live anywhere in Texas, Austin is where everyone wants to go. We're in the perfect spot at the perfect time to catch these people."

Source: Community Impact

Posted by Grossman & Jones Group on