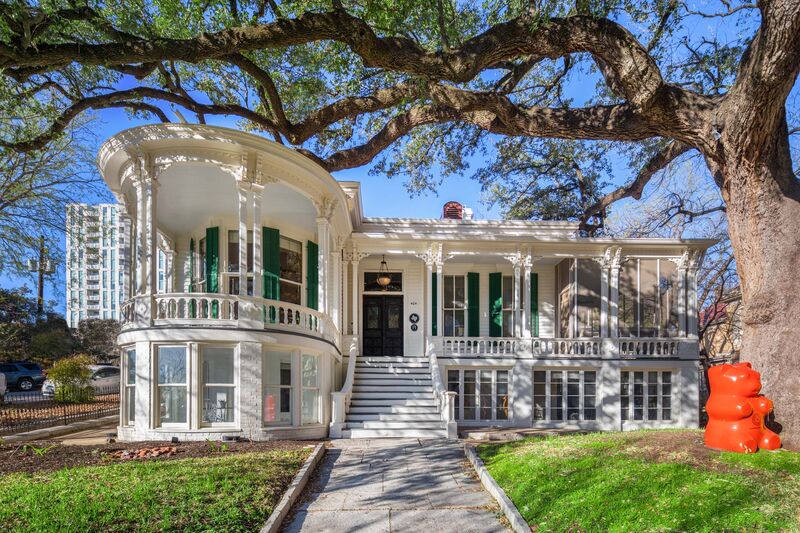 Bloomberg writes, "even before the lawyer Mark Mueller bought his first historic home in Austin, Texas, he "always tried to live in one, or rent one," he says. He recalls that in the mid-1990s, as he wandered around downtown one day, he passed a white Victorian with an elegant veranda and a massive oak tree out front. Fortuitously, the house sported a "for sale" sign. "I just went, 'Damn, I want that,'" Mueller says, and shortly thereafter closed on it and turned it into an office for his law practice.
Over the next few years, Mueller acquired the two adjacent houses (three, if you count the carriage house on one of the properties) in an area known as the Bremond Block Historic District, a group of eleven homes which is on the National Register of Historic Places and less than a five minute walk from Republic Square. It consists almost entirely of houses built by or expanded for the families of banker/merchant brothers Eugene and John Bremond, according to the Texas State Historical Association. And it is now largely surrounded by modern high rises.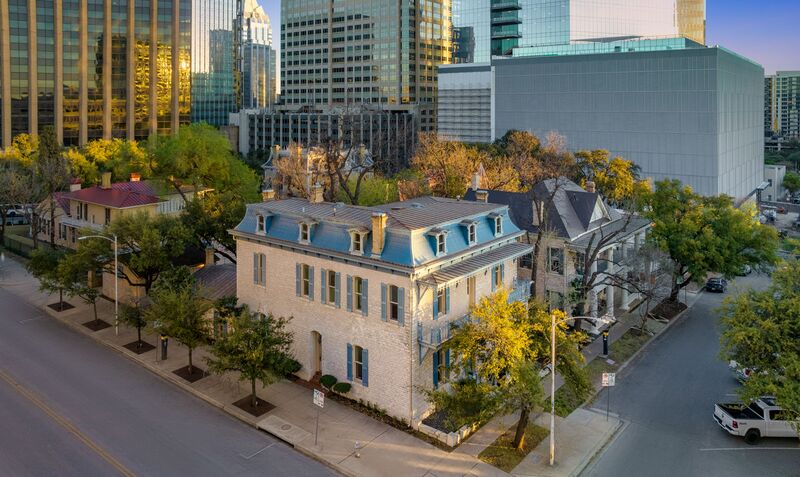 Over time, Mueller—who was named 2013's "best dressed attorney" by the Austin Chronicle and, in addition to his law practice, owns and operates the event production company Voodoo Cowboy Entertainment—used the homes for a variety of purposes. He lived in one, hosting artists and theater groups in others. Past performers at his events include Willie Nelson and B.B. King. (The superlative is echoed on Mueller's website, which adds that "if you get invited, you should come. If you haven't been invited and think you should be, then you will find a way to get our attention.")
Now he's shifting his law practice into what he says is "more of a consulting and strategic role," publishing poetry and helping his twin sons' music careers rise "to a bigger level," Mueller says. Part of that shift means putting all three houses on the market as a single listing for $20 million with Kumara Wilcoxon of Kuper Sotheby's International Realty.
"I want to keep these properties together," he says. "I just see it as much more valuable as a group, and I'd like to keep it that way," he continues. "I don't like the idea of separating it out."
Assembling the Properties
When Mueller moved into the first house, he quickly met his next-door neighbor, a woman who "was also interested in historic preservation," he says. She owned the two adjacent houses, and one day Mueller approached her and said, "You know, I'd like to get all these buildings, including the ones you have." In Mueller's telling, she wasn't exactly eager to sell ("She said, 'OK, noted,'" he says) but he played the long game.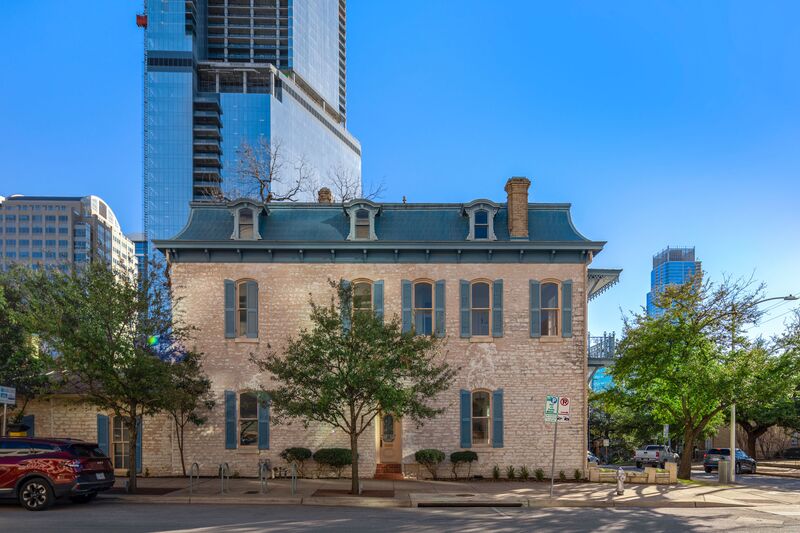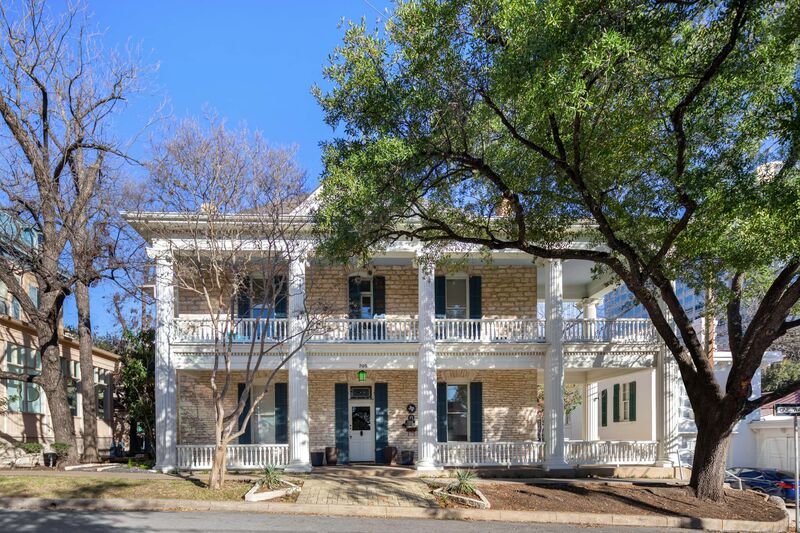 "She was getting older, so I worked on a deal with her, and then moved into one of the houses," he says. (The transaction was "several" years after he'd bought the first, in his recollection.)
Although the three lots are adjacent, their addresses—404 W. 7th St, 705 San Antonio St. and 711 San Antonio St. (which has the stone cottage)—don't exactly imply continuity. The first, 404, the original white Victorian, sits on 0.25 acres, has 5,879 square feet, with five bedrooms and two full and two half-bathrooms. The second, 705, is taller with porches on its first and second stories. It sits on a 0.14 acre plot and has 2,695 square feet with three bedrooms and three bathrooms. The final parcel is slightly larger, on 0.2 acres, with four bedrooms and four bathrooms spread across 4,836 square feet. Its 1,034-square-foot carriage house has an additional bed and bath. All date back to the 1870s, according to the listing agent.
Given the small size of the lots, the houses occupy almost all of the properties' footprints. There's a courtyard in the back, though, and both 705 and 711 have back porches.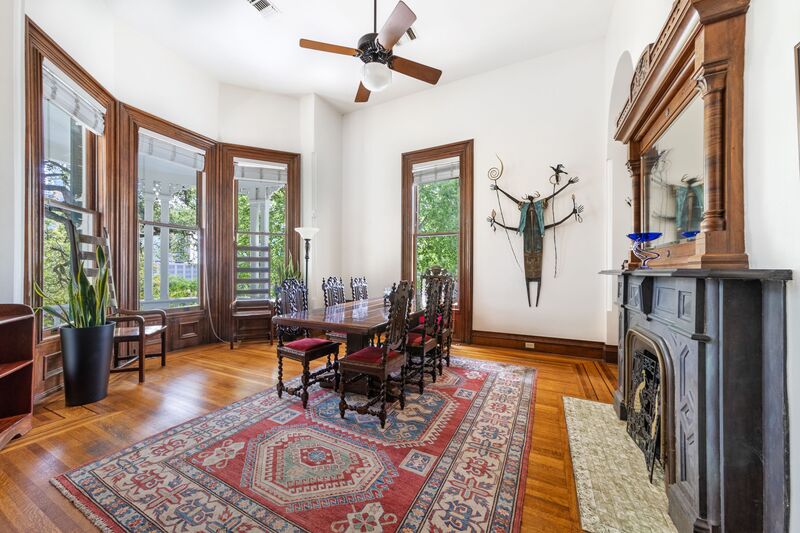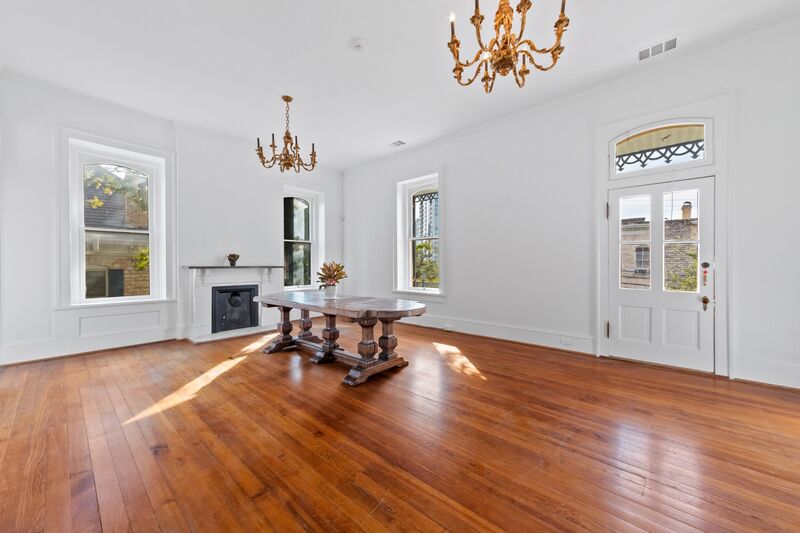 Each building required a significant amount of upgrades, Mueller says. "The floors had to be redone, screens redone, shutters repainted, roofs were updated inside and out, every building required something," he says. Fixtures were replaced, as were door handles, though in each instance Mueller did his best to use historically accurate materials. "We tried to keep everything original where we could," he says. "It took a while."
Using the Houses
The use of each building changed over time, Mueller says. "At one point it was filled with lawyers," he says of the string of properties.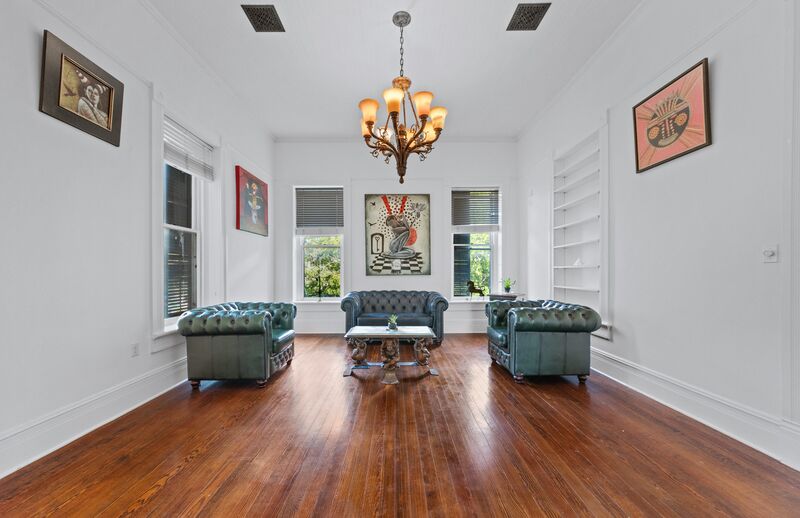 When his firm wasn't working on a major suit and there were fewer lawyers in need of desk space, he would give the space to people working in arts and culture. Occasionally he'd let people use the space for free; others got reduced rent. "We had people doing acting classes, we had people doing other kinds of creative projects, music and arts," he says, adding that a visiting tattooist and a fashion startup also used the property. At one point he moved his residence into 705 "and for a while my sons lived downstairs, and then I lived upstairs." At other junctures the properties hosted indie music promoters, "health and healing and nutrition workshops," he says, and nonprofits, which used the houses for gatherings and events.

"I have new interests all the time," Mueller explains, "so with these properties, I had the ability to foster that." As his interests changed, he continues, "with the people I came into contact with, I could make the space available."

It's for that reason, he continues, that he's selling. "I'm 70 now, and I still feel young," he says. "I want to be able to live somewhere else, or travel internationally—it's just time for me to shift away, to a different avenue of my life." "

Source: Bloomberg

Written by: James Tarmy

Published: March 10, 2023

Posted by Grossman & Jones Group on
Tags