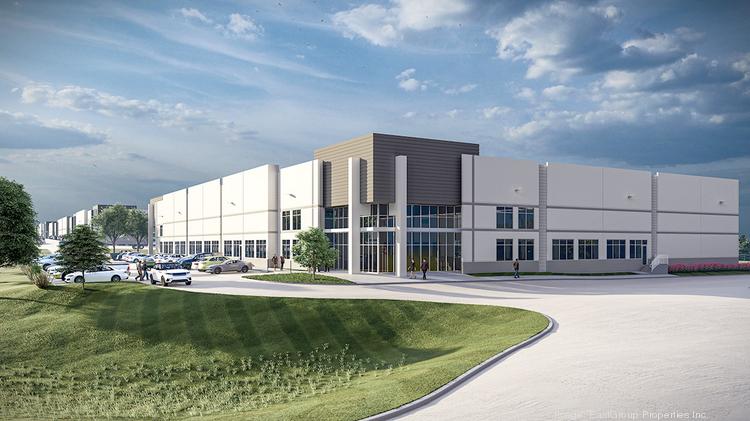 According to Austin Business Journal, "There's another industrial development sprouting in the fertile I-35 corridor.
Mississippi-based EastGroup Properties Inc. broke ground Sept. 12 on Stonefield 35, a 275,559-square-foot project in Buda, the company announced Sept. 22. The development comes amid impressive growth, especially for industrial space, in the corridor between Austin and San Antonio.
The development will be built on about 21 acres at the northeast corner of I-35 and Robert S. Light Boulevard. EastGroup is constructing three buildings with varied dimensions.
The largest building will be 148,233 square feet and equipped with 51 dock doors and two ramps, according to marketing material. The building will have 195 parking spaces.
The next-largest building will be 74,104 square feet with 24 doors, two ramps and 97 parking spaces.
The final building will be 53,232 square feet and will have 17 doors, a single ramp and 71 parking spaces. That gives the whole development a total of 363 parking spaces across all three buildings.
All buildings will be tilt wall constructions with a 28-foot clear height.
Construction is expected to be complete by mid-year 2023.
RC Page Construction general contractor and Pross Design Group designed the project. Transwestern Real Estate Services Vice President Luke Wheeler and Senior Associate Nash Frisbie are handling leasing for the project.
"The north and southbound IH-35 visibility and access of Stonefield 35 is an absolute game changer," Frisbie said. "For tenants seeking highly trafficked signage, this development's highway frontage is the equivalent of having a business advertisement on a highway billboard. We expect this project to capitalize on the continuous growth of the City of Buda and Hays County."
The buildings are designed to accommodate tenants seeking 17,000 to 275,559 square feet.
EastGroup Vice President David Hicks said that while no tenants have signed a lease yet, pre-leases are being negotiated.
Hays County has seen a lot of industrial growth in recent years.
In 2021, the county saw 534,058 square feet of industrial space delivered. That's already been topped this year with 679,440 square feet delivered as of July 12, according to CBRE Group Inc.'s Q2 industrial market report. That was the highest number in the past five years.
This development has been added to Austin Business Journal's Crane Watch database, which now has data on more than 400 large commercial projects in the metro. Keep reading for more construction news, and scroll to the bottom of this story for a map.
New condos aim for attainable pricing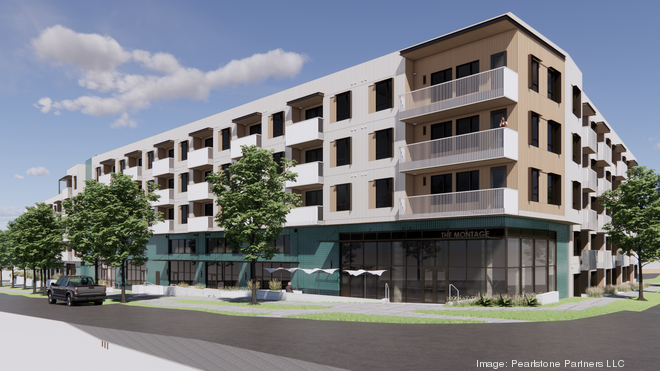 South Austin is set to get an attainably priced condominium building with a commercial component on its ground level.
Austin-based Pearlstone Partners LLC is set to break ground in November on Montage, a 175-condo development on South Lamar Boulevard, said Chris Zaiontz, senior vice president of real estate. Pearlstone said condos in the five-story mid-rise will be priced below the average sale price in the area.
"It's a great neighborhood," Zaiontz said. "Very close to Zilker, Barton Springs — just a really important part of Austin, and there's very little selling inventory at any price point for that neighborhood."
The project will be built on about 1.74 acres at 2323 S. Lamar Blvd., Zaiontz said, at the southeast corner of South Lamar and Bluebonnet Lane.
The condos will have one- and two-bedroom floor plans of 1,400-1,900 square feet. They are set to be priced between $499,000 and $999,000, Zaoiontz said.
Zillow's average home value for the 78704 ZIP code, which includes 2323 S. Lamar Blvd., is $1.04 million.
"By no means are we saying this is the cheapest building in Austin, but for that particular neighborhood? This gives buyers the opportunity to be in a highly desirable neighborhood under that million dollar price point," Zaiontz said.
While homes are pricey in 78704, the ZIP code ranked No. 43 on Austin Business Journal's latest list of the region's wealthiest ZIPs, with median household income of $78,861 in 2020.
Directly below those attainably priced condos will be six live and work spaces available for purchase that will, like the higher condos, range from 1,400 to 1,900 square feet. Additionally, there will be two office spaces with a maximum square footage of about 3,000, Zaiontz said, and a corner retail store that could house "a food and beverage operator," he said.
AECOM Hunt is the project's general contractor and STG Design Inc. designed the building, Zaiontz said. Walker Partners is the civil engineer on the project, Prospect Real Estate is the residential brokerage firm and Kim Lewis Design is attached as interior designer.
The condos are expected to be complete in Q4 2024.
Elsewhere in South Austin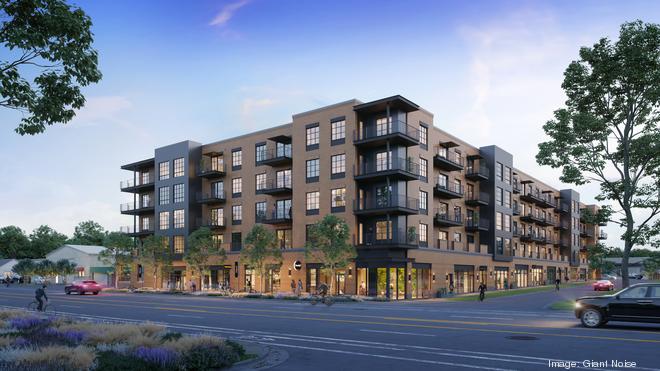 Farther to the south, construction on a similar development will soon break ground.

Intracorp Homes recently announced it will break ground in October on Congress Lofts at St. Elmo. It will have 140 for-sale condos plus ground-floor commercial space.

The upper four floors of the five-story mid-rise will have the 140 one- and two-bedroom condos ranging from 524 to 1,419 square feet. This project differs from Montage in that homebuyers will have the option to convert the one- and two-bedroom floor plans into an open, loft-style unit.

Intracorp last month opened sales for Congress Lofts at St. Elmo and the units were approaching 50% sold as of Sept. 26, according to an Intracorp representative.

The condos are priced between $400,000 and $800,000, according to the announcement. The average home value for the 78745 ZIP code is $548,542, according to Zillow.

The commercial space on the ground floor will be anchored by a 3,800-square-foot space. It will also feature nine live and work storefronts, which will cater toward small businesses.

The building will be 545,000 square feet in total. It's being built on 1.4 acres at 4315 S. Congress Ave.

Construction is expected to be complete in mid-2024.

Summit Design + Build is the general contractor. Chicago-based Pappageorge Haymes Partners is lead architect. Urban Foundry Architecture is tasked with the interior design for the project's common areas. Compass Development Marketing Group is working with Intracorp on the design of unit interiors and is managing sales and marketing. Hitchcock Design Group is the landscape architect and the civil engineer is Rivera Engineering.

Another high-rise slated for West Campus

Another multifamily high-rise may soon tower over the University of Texas campus.

New York City-based Park7 Group plans to begin construction early next year on a 30-story tower at 2200 San Antonio St, according to a recent filing with the Texas Department of Licensing and Regulation.

Park7 Group did not respond to requests for comment and the details in such TDLR paperwork can sometimes change. But the filing indicates the 246,000-square-foot building could have 216 units.

The filing does not spell out that this would be student housing but that seems likely. Park7 says on its website that it is "the nation's premier developer, owner and operator of large-scale, purpose-built student housing properties." The West Campus neighborhood adjacent to UT has seen numerous student housing high-rises sprout in recent years, including Villas on Rio and the recently completed 30-story Waterloo Tower.

The new tower will include two levels of rooftop amenities and four levels of underground parking.

Since 2012, Park7 said on its website it has developed $750 million in student housing properties in nine college towns across the country.

Construction is expected to begin Feb. 27 and conclude in May 2025.

The estimated cost of the project is $80 million, though this figure is preliminary and subject to change throughout the development process.

Rhodes Partners is attached as the design firm.

Industrial wave still swelling

A New York-based developer with a global reach is building a third logistics center in Austin.

Brookfield Properties LLC will construct Northgate 35 in far North Austin at 16235 N. I-35 Service Road, according to a recent TDLR filing.

The project will consist of a 145,086-square-foot business and storage warehouse building. The filing lists an estimated construction cost of $9.3 million.

The project is set to begin construction on New Year's Day. Construction is estimated to last around 10 months and end in October 2023.

Brookfield Properties did not respond to requests for comment.

In addition to Northgate 35, Brookfield in Austin owns a 1.81-acre property with an 8,000-square-foot industrial building built in 1970 at 4201 Felter Lane, as well as Tuscany Crossing Business Park at 8501 Wall Street."

Source: Austin Business Journal

Written by: Cody Baird – Staff Writer, Austin Business Journal

Published: Sep 29, 2022

Posted by Grossman & Jones Group on
Tags